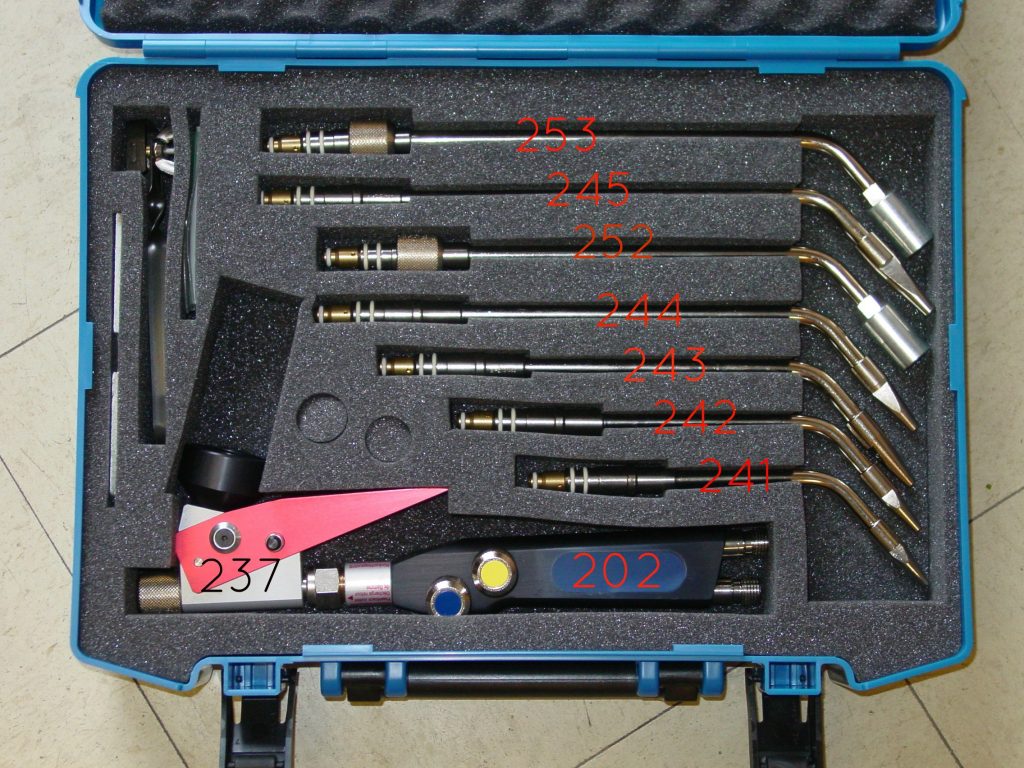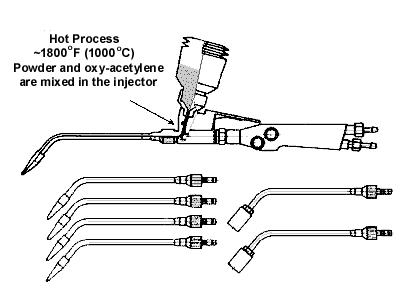 For thin layers and edges, also in difficult positions
Torch: HA-BOND torch (developed from MAXI-JET). We recommend additional flashback safeguard with this torch system
To make things easy, we sell parts and service/repair the HA Bond gun right here in our facility. You can purchase a brand new gun, or have us repair your existing one. 
HA-BOND "hot" powder deposition
The HA-BOND torch can be assembled with the following parts:
– Handle                                                                No. 202
– Powder Mixer, complete                                                No. 237
– 5 welding / spray inserts, sizes 1-5               Nos. 241-245
– 2 preheating and spray fusing inserts,
sizing 4 and 5                                                        Nos. 252 – 253
Recommendation: We advise the use of a flashback safe-guard for this system. 
Powder : HA-BOND powders
The process
The HA-BOND torch has been developed from the successful MAXI-JET type. It is applicable in all positions, including difficult positions, for thin layers and edges, for surfacing cylindrical parts and surfaces. It enables high-grade metallic coatings to be deposited against abrasion, corrosion, erosion and heat – with minimal distortion risk. By suitable choice from the available HA-BOND powders hardness' from 15 to 65 RC can be attained.
Principle of the torch:
In the powder mixer the powder is mixed with oxy-acetylene and led through the nozzle and the flame onto the workplace. Especially suited for surfacing round components (such as shafts) are the preheating and spray nozzles 252 and 253, enabling very thin, even layers to be deposited as well as thicker layers of several millimeters. Thanks to the smooth flow of the surfacing alloys, machining is reduced to a minimum.
Which metals can be built up?
With the HA-BOND process the following materials can be built up:
                -Steels
                -Stainless Steels
                – Grey cast iron
                – Malleable cast Iron
                – Non-ferrous metals
Work piece preparation and deposition technique
1. Preparation of the work piece
The surface of the work piece should be prepared by grinding, filing, or sandblasting. All edges must be cut. The work pieces must be absolutely free from grease and residues.
2. Adjusting the torch
Flame: Adjust the flame for the particular HA-BOND powder employed.
Pressure: See table below
Insert 
  Size

Part
  No.

Oxygen pressure

Psi (Bar)

Acetylene pressure

Psi (Bar)

1

 

2

 

3

 

4

 

5

 

241

 

242

 

243

 

244

 

245

21-36
  (1.5-2.5)

36

(2.5)

36

(2.5)

36-42

(2.5-3.0)

36-49

(2.5-3.5)

3-6

(0.2-0.5)

3-6

(0.2-0.5)

3-6

(0.2-0.5)

3-6

(0.2-0.5)

3-6

(0.2-0.5)

4

 

5

 

252

 

253

 

36-42

(2.5-3.0)

36-49
  (2.5-3.5)

3-6

(0.2-0.5)

3-6

(0.2-0.5)
3. Preheating the work piece to about 550 F (300C) (check).
4. Deposition
To prevent oxidation of the base material being built up, it is advisable to spray a thin coat of the appropriate HA-BOND powder at about 550 F (300 C) first. After spraying the entire surface over thinly, it must be heated to 1100-1300 F (600-700C) (until the surface sweats). The desired coating thickness can then be built up without intermediate cooling at the same time. The built-up work piece must be cooled slowly in still air (asbestos covering)